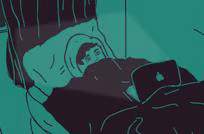 Maarschalk
Mental asylum
'Where am I?'

A deep voice spoke from the shadows of what was presumed to be a prison cell. Whatever clothing the figure wore was worn and had tares running across it. This was an indication of violence having occurred prior to waking up in the cell, and it hurt too. Needless to say, a few grunts could be heard throughout the halls as the seven plus foot tall figure rolled off his bed. His fingers ran across the cold stone. There wasn't even dust he could feel with the tips of his fingers. The stone felt very old, not in the sense of moss growing - but in the sense of a lack of modern construction, like concrete.

Crawling to the light, his fingers found a cold rod of steel. They were bars, the man was caged by concrete and iron, the surrounding matched the description of a prison. The immediate question began to rise up, skeptical of the night before; had he been drinking? This had happened before, albeit the jail he was placed in at that time was much friendlier. After a few minutes of collecting his energy, he picked himself up and to stood up. This place seemed familiar, but he just couldn't put his finger on it.

'Can anyone hear me!?'

Meekly the man spoke. Deprived of some of his senses, he tried to rid himself of the cuffs that chained his hands together. His sight wasn't clear, the black blindfold covered his vision - as light was the only thing he could notice. There was no light in his cell, he did notice a small draft. There probably was a window in his cell. This meant that it was night outside. The cuffs were made from a strong material, he couldn't make out what it was exactly. After struggling for some bit, he noticed that the middle portion that held the cuffs together wasn't as strong as the parts around his wrists. He used the sense of his touch to try and find a sharp rock in the cell, he did this by using his feet - or more precisely, his boots.