Metalizm
Go to page :
1, 2, 3, 4, 5
Sat Aug 05, 2023 12:32 pm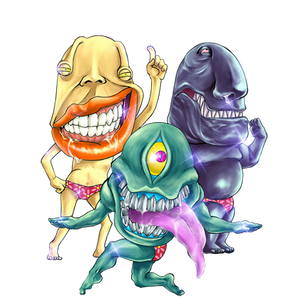 As the Five headed dragon was going to blast their fury of elemental flames, Ojama Yellow and Green danced harder than before as if hardcore music started to play. It was a mix of EDM and Metal mixed into one. Magical lights shined down upon them as sparkles surrounded them in sweet glamour and fame. A portal opened and Ojama Black fell perfectly on his feet next to his brother. Perfectly they sync'd in doing a battle dance stance. "Alright Brothers, Ojama Black is here!", he reported. "I heard some wings, booze, and babes are in order to this music I've summoned," he spoke up in his fancy tone.

"Brother Black! We need to get rid of our problem first," Brother Yellow reported and looked up towards it as Black did too. "Ohohoh! Brothers! Let us summon our dance of...." Ojama black started.





"Ojama Delta Hurricane!" they spoke at the same time. A rainbow light swirled into a hurricane shape. It lasered towards the summoner and the dragon as the music thundered the arena. They laughed and partied as the laser struck the dragon. The dragon, before being able to destroy what would have been the whole Country, was destroyed and turned into sparkles and pixie dust. The summoner's cards became to wither, and the Lord fell on his ass. The brother's looked at each other and danced still as the music continued to play.

"We did it, brothers!"

"Now we can party on hard all night!" another spoke.

"We can feast and find some babes!" the last one spoke up.


You may now say and do your last hits against the Summoner.



Go to page :
1, 2, 3, 4, 5
Permissions in this forum:
You cannot reply to topics in this forum