❃Arisa❃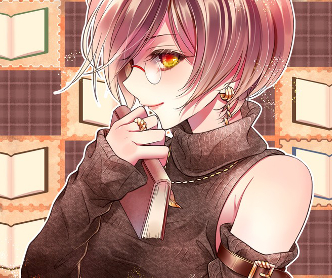 The area was wavering with beauty and coolness throughout the winds that carried leaves and petals of nature. Arisa slowly walked upon the sidewalk as her face was into her book. Her golden brown eyes looked down as she carefully pushed up the bridge of the glasses up with her right hand. After that she would let her right arm dangle against her side till she needed to turn the page.
The area of Crocus was quiet unlike the shopping area with the stalls. Over her book she was reading a brochure of Crocus as she has never been here. There were so many places she has yet to try. The food, the library and even the area where they play music. She felt somewhat excited, but no one would be able to tell from her calm facial expression.  
Quickly Arisa would look over her book and brochure to see that there was a table beside a cafe. ''That looks nice to sit.'' she spoke to herself softly and calmly. Slowly she walked, ignoring those around her as she then sat down on a chair. The chair was made out of fine wood, painted white with a carved flower in the middle of each chair. The table was round and glazed as the wood was shining and smooth. Her eyes took a simple look as there was a flower in the middle, beautiful and alive.
Softly she took a simple breather and looked back at her brochure and book, multitasking. Moments passed as she would then close her book. Finally she wondered if something new would come up, more adventure.

Words

xxx/xxxx