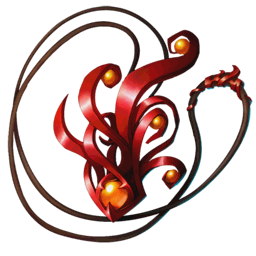 Name: Amahl's Mastering

Slot: Necklace

Type: Necklace

Class: Unique

Quantity: Limited

Element: Arcane

Durability: 1x S-Rank

Description: The pendant is made out of magically carved ruby that takes the form of an unravelling flower with orange pearls embedded at the tip of the petals. At the base of the pendant is the largest pearl that glows softly.

Requirements: None

Spells:



Name: Nullify
Rank: S
Mana Cost: 500
Requirements: Amahl's Mastering
Type: Supplementary
Element: Arcane
Range: 25 Meters
Cooldown: 5 Posts
Duration: Instant
Effect: The user taps the center of the amulet casting a spell that negates all spells that are being sustained within the area. This effect is instant and does not linger.