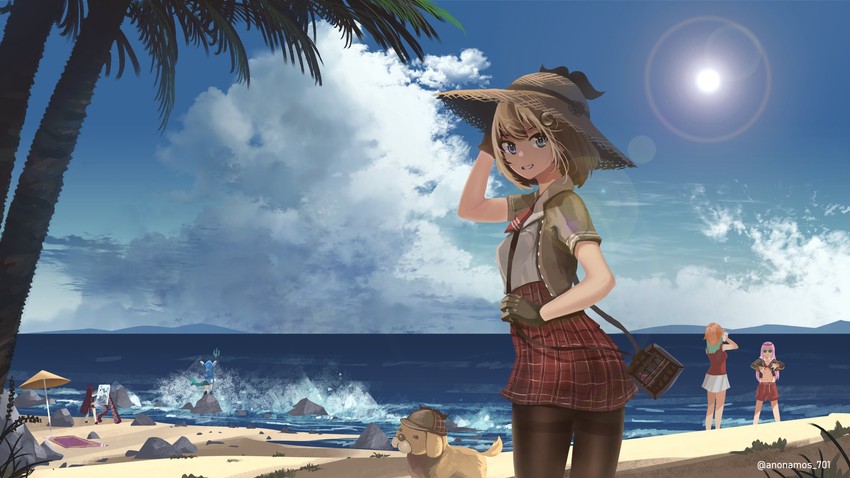 WORDS: --- | Attire: Bikini & Suza's Attire
Are we going yet?
That's the question Suza kept asking as she was ready to go. Her bright water-colored eyes were bright as the sun was coming through the window to give them light. Her smile revealed her shark-like teeth that she developed more confidence about now. It was a good start as Quilla didn't want her adopted daughter to be ashamed of what she is. "I'm not using magic today, Mama. Do you think someone will step on my tail?", she wondered. Quilla giggled and smiled at her as much as she could, which wasn't much for Quilla as she had a usual cool and calm face.
"Noo, I doubt anyone will," she responded, but her thoughts were different,
'They better fucking not,'
. She made her that Suza's outfit was appropriate and fitted nicely. She had a white crop veil-jacket to cover her shoulders and bikini in a transparent way. Her bottoms were a frilly and red with some white on the sides. With her, she carried her tube and had her towel and shark in her bag that was also a shark. If no one could tell, she was obsessed with sharks as she was a Shark-Cat demi-human.
Quillareine wore a black bikini with a skill pendent in the middle of her large chest. Over it all is a veil-dress that was partly transparent. Slowly, she brushed her hair before putting it down and going to Suza. "Alright, we're ready,~" she spoke calmly yet in a playful tune. The two left their hut that they rented and went towards the beach together. In her own bag she carried some booze bottles, picnic basket filled with food, her towel and some things to do. Once she got there she saw that there were at least four other people there. It was still a little before noon so it was a perfect time to come out and play. Plus, the music from the tiki bar on her right gave it a better vibe.
Sometimes, you have to make

your own fun.