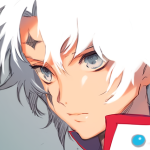 Kitai
Fayre
• • • • • • •
Hargeon, Fiore

Upon his first steps back within the port town he had known his entire life, he were to inhale the salty sea breeze. His lush locks of pure white hair were tugged on gently by the light wind of the day. It had been quite some time, Hargeon, Fayre mused. It was here that a new chapter once again were to open up to him, a new beginning. It had been a fairly long while since he had last wished to join a guild or had the courage. However, now was unlike the other time. Fayre was this time not trying to work up the courage to do anything. Rather, he was trying to walk a certain path, one he felt was necessary. It was a particular path that had to do much with what he had learned during his travels and time of finding himself. It was a path that happened to bring him back to Hargeon, his hometown, the hearth and the home of Alisa, the White Empress. Fayre clenched his fist and shot his stare up to the limitless sky, almost promising himself to meet this woman for he can try to learn more about slaying demons.

Fayre: "Now, where to find her..? I guess I could start by trying to see the Blue Pegasus Guild Hall.. but will they just let me join just like that? Ah, well, may as well try!"

Said aloud boisterously to himself the young man, pounding the side of his right fist into his left open palm. It was worth a try he thought. Fayre was about to then lift his foot up to begin marching over to the Guild Hall of Blue Pegasus, led by Alisa, a true legend of Fiore and wildly popular celebrity, when suddenly, quicker than anything he had ever laid eyes on, an almost blur rushed past him. Fayre paused for a moment, just trying to understand what that just was. It was at that moment he carefully processed what that was. Having blinked twice, wondering if what he saw was truly what he thought, he in an instant realized. It was.. Alisa!

Fayre could not let this precious moment pass him up! No matter what, he could not let her get away! As if a wild fan or obsessive stalker, the mage hit the ground running, like his life truly really did depend on him meeting her. It was unreal, the timing and coincidence that is. As he had just was thinking about how he was to try and meet the famed woman, she passed him, just like that. Fayre had a mission! It was to meet this woman and join Blue Pegasus! It was said to be a guild of beauty and models. Is Fayre pretty enough for such a guild? Hopefully, the young mage was not too ugly. Fayre were to roar out to Alisa while sprinting so vigorously behind her, trying to voice his intentions of wishing deeply to join Blue Pegasus and learn what he can about demons.

Fayre: "Alisaaa! Waaait! Let me join Blue Pegaaaasus! I heard you are a Demon Slaayer! Let me follow in your footsteps! Alisaaaa! My name is Fayre Kitai! I hope to be someone great like you, one day! I want to learn more about demons! I will do whatever I can to protect Fiore and Hargeon! I have seen what demons can do, and I cannot let them!"

Fayre had roared out to Alisa ever so passionate, trying so desperately to not lose her, and have her notice him so he can join the renowned Blue Pegasus of Hargeon. No matter how tired he felt, or how much his body wished to stop the chase, he persisted on, due to his unwavering determination to want to join her guild and meet her. Fayre wished to vomit so bad by how quick he ran to not lose her, but he did not quit. It was now or never, he thought. Blue Pegasus was a highly famed guild, one that housed truly great mages.

Wordcount: 666 | Credit to Aki