General


Name: Buchanan's Scouring Eye.

Slot: Modification.

Type: Eye.

Class: -

Quantity: Limited.

Element: -



Detail


Description: An eye with the ability to see through things.



Extra


Requirements:

The user must purchase this item from the Mysterious Merchant.

Notes:
The user must select which eye they want to get replaced. Upon purchasing, the eye is automatically replaced by the Mysterious Merchant. Should the user lose the eye by reselling it or inactivity, they will get their old eye magically restored again.

Spells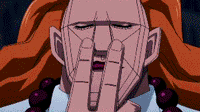 Name: Scour
Rank: A
Mana Cost: 200
Requirements: Buchanan's Scouring Eye
Type: Supplementary
Element: Arcane
Range: 50 Meters
Cooldown: -
Duration: Sustain
Effect: The user can use this spell to see over long distances, giving them the ability to see through solid objects, thereby allowing one to track enemies with relative ease. The user can see through things up to 50 meters.