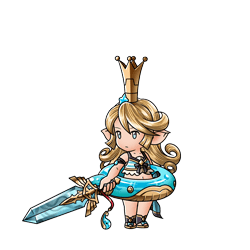 It was a warm sunny. Tempris was napping on a red checkered blanket in grass plain, bathing in Illumin's love. She had recently caught up on her work in the ruin knights. So, she had the rest of the day to relax. She had on a white sundress with pink frills and a red ribbon around her waist. Her white veil rested to the right of her head. Her toes occasionally flexed as her feet laid bare in the grass. Her brown boots laid to her left. She was in bliss but fate is a funny thing.
The girl was used to the occasionally cart and passerby. So, when a bike stopped on the road in front of her, she did not think to look. That was until a shadow severed her from her blissful rest.
"Ms. Ashflare, Delivery."
"Tell the knights I'll do tomorrow." She waved her hand signaling the boy to back away. The heretic was blocking Illumin's loving warm that radiated from the sun.
"Ma'am… uh… this is not from the knights."
Tempris opened one of her eyes, raising her hand to block the sun. In the boy's hand was a pink envelope. "Arghhhhh, that stupid sinner!"
Tempris sat up and took the letter, while handing the boy a small tip. He deserved better for his hard work of finding her personally but waking her from a nap and blocking her sun meant he could suffer a sinner a little longer. Plus, she did not want to get a sinner's ash on her dress. She just bought it recently with her new promotion money.
The letter was also pink signaling this was coming from her "favorite" fashion designer, Fernando Milano. She found herself working a lot with him when she was a Page in the knights but she honestly thought she would be free from the heathen once she was promoted. It had been a while since she seen him, an enjoyable while. The letter explained that he needed her help as only she understood his dream.
WC: 346
Stats:

Str:

2+20 C-Rank (172) S-Rank

Spd:

6 +20 7.5/15m/s

Con:

59 S-Rank 5 post run. 1 lunge a post

End:

7+60 S-Rank

Int:

10

Mana:

1700

1. Mana Burn - Debuffs

Debuffs removes mana from their target equal to one rank lower than the spell.

Magic Element:

Light

Magic Name

Holy Flame of Illumin

Bless with Illumin's will, The Holy Flame of Illumin smites foes and heal allies under the white and blue purifying flames. Victims of these flames will be burn to ash. Those outside of the flame's wrath will be privilege to bask in its warmth. Let all sin be purified from this world and all heretics feel the wrath of Illumin so that their souls may be freed.

Weapon: Jeanne D'arc's SwordHead: NoneBody: Magical Phasing CloakEarrings: Zameen EarringsNecklace: Amulet of Magical ResistanceRing: Gheed's GreedRelic: Rune Knight PendantMount: White Wyvern


Last edited by Tempris on Sun May 02, 2021 7:21 am; edited 1 time in total