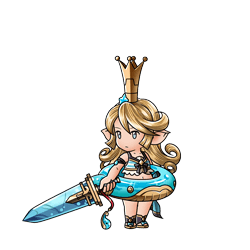 Tempris stood in the outskirts of Baska. It was not a normal day for the knight. She was not hunting bounties, being an errand girl, or purging the world of sin. Today was just suppose to be a training exercise she requested with Rinni. Rinni didn't use magic and they both wanted to practice with their weapons. Tempris however, did have an alternative motive for this.
She wanted to get back at the wolf girl the way she was treating her, especially after that last assignment. To think Rinni would actually take Tempris to go eat Ice Cream. Tempris fought hard to hold her composure but there was only so much a girl like her could handle... alone. That combine with cursing her to now like furry things, Tempris needed to let out her own steam. What better way than by fighting a heretic. Sure Tempris told herself she wasn't going to kill the wolf. Her tail was too fluffy to give away to Illumin just yet. She just was going to sure her who was the master and who was the dog. Who knows, if she was a good one. Then maybe Tempris would share a bit of her own magic to bless her with Illumin's warmth.
"So we agree. on the rules. No magic. No transformations. Only your weapon and gear." Tempris pull out her sword and gripped it with two-hand. "No backing down now sinner."
Stats:

Str:

2+20 (172) S-Rank

Spd:

5 +20 7.5/15m/s

Con:

59 S-Rank

End:

7+60 S-Rank

Int:

10

Mana:

1700

1. Mana Burn - Debuffs

Debuffs removes mana from their target equal to one rank lower than the spell.

Magic Element:

Light

Magic Name

Holy Flame of Illumin

Bless with Illumin's will, The Holy Flame of Illumin smites foes and heal allies under the white and blue purifying flames. Victims of these flames will be burn to ash. Those outside of the flame's wrath will be privilege to bask in its warmth. Let all sin be purified from this world and all heretics feel the wrath of Illumin so that their souls may be freed.

Weapon: Jeanne D'arc's SwordHead: NoneBody: Magical Phasing CloakEarrings: Zameen EarringsNecklace:  Amulet of Magical ResistanceRing: Gheed's GreedRelic: Rune Knight PendantMount: White Wyvern