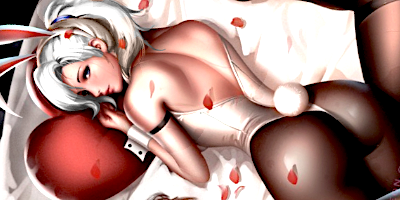 WORDS: N/A | TAG: @No one | Zri & Bri Outfits

Kurisa gazed towards the square where her two children and herself were going to go find eggs. Her sister's guild went ahead and hid them around the area so she herself did not know where they were located. "You remember your social names?" she smiled motherly towards them. They had excited grins on their faces as they nodded. Bri gazed at her mother with her hands on her hips. "Why couldn't I dress up like you?" she questioned. Kurisa giggled as she was wearing a more sexualized outfit as most women do. Her outfit was what most categorize as a Playboy Bunny. "You can when you grow older.~ For now you look very cute in your dress - as much as your sister." She giggled sweetly.

She heard Bri make a huffing sound and ran off with her sister Zri. They both had a little bit of herself and a little bit of their father. She was unsure where Kazimir was and if he was going to join them as this would be the first day he will see them. Her own white beautiful hair flowed with the wind as her golden and blue eyes gazed towards the area, but always kept an eye on the two. She walked herself to them but kept a meter or so distance so she could give them their space. They liked feeling independent as they will need to be someday. She won't be around forever.

As she was thinking that she gazed at her surroundings. Far apart were others that looked for eggs. Other children playing with each other yet here were her two children that didn't like playing with others. They so far only had each other and their aunt Judith. Too bad she didn't bring any food for them. Maybe she will order some.