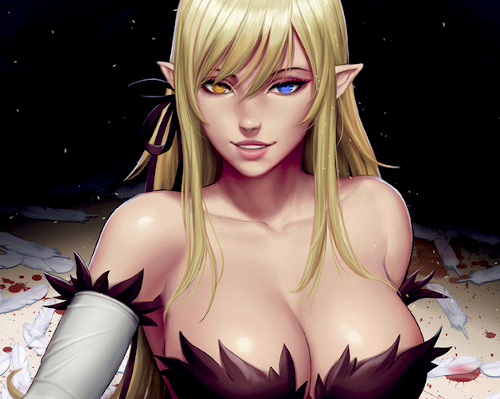 If only she could feel the breeze of Hargeon's open seas as the smell could have been wonderful. So many things were happening while she was out here in her projection and truthfully, she knew she could find one person here. Apparently, according to those who come and go from here the woman never leaves this side of Fiore. Her heterochromia eyes gazed towards the night as the lights of every building lit like stars. She remembered she was here when she was tortured, violated, and killed before turning into seraphim and then once again as a Nephilim in Crocus to end up being reborn as one. She still remembered that day she had to destroy Revana's every being to become 'them' as Ana and Kuri alongside Arisa took over.

All of revana's memories became nothing as if she never existed.

Poor girl, some would say.

With her Dragonslayer magic, she turned her appearance into something more 'her' before she arrived in a projection. Maybe once she finds Alisa they can have a peaceful walk, but what will she all say? Kurisa was unsure at this moment as she stood on a tall building watching everyone walkabout in the middle of the night. Slowly, she tilted forward and closed her eyes as she fell off the building. Her projection hair stayed in place as everything to her wasn't real at this point. All that was real were her feelings that have been cast aside many times, but not once as her sister cast her away. It was something even Judith has done in the past, but maybe if Alisa went through the same things Judith has been through she would've too.

Once she was on the ground she roamed the streets normally while gazing for her sister.


8,400/8,900