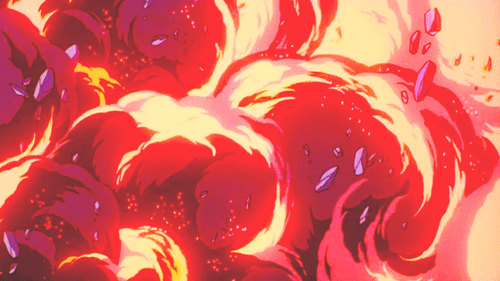 Name: Napalm Magic

Element: Fire

Category: Single

Quantity: Limited

Description: Napalm Magic is innately destructive focusing on encompassing large areas in moving flames. Napalm Magic creates a liquid fire that when it comes in contact with air explodes violently into an ocean of crimson flames engulfing everything it touches.

Advantage:



Double AOE Size: Napalm Magic is a magic that specialises in AOE Offensive-type spells as the size of its AOE spells is doubled.

Moving AOE: Napalm Magic is one designed to eradicate everything within the users palm. AOE Offensive-type spells used with Napalm Magic have the ability to move.

Disadvantage:


All offensive spells must be AOE

Must be able to perform at least normal Offensive-Type spells.

The user can only cast offensive-type spells

Note:


The user must either train or purchase the spells listed when they have unlocked the respective spell slot.



Name: Funeral Flame: Ground Break
Rank: B
Mana Cost: 100
Requirements: Napalm Magic
Type: Offensive - AOE
Element: Fire
Range: 15 Meters
Cooldown: 3 Posts
Duration: Instant
Effect: The user points towards a chosen location and creates a magical seal in front of them. Liquid fire pours out that instantly transforms into a roaring river of fire with an 8m diameter. The river of fire crashes into the ground with great impact. Debris and smoke are tossed up into the air with a diameter equal to the spell. The dust and debris act like a smokescreen to hide the advancing river of fire as the user controls the flames to advance through it or around it. The flames move at 20m/s dealing B rank damage.

Name: Burning Heavens: Ground Flame
Rank: A
Mana Cost: 200
Requirements: Napalm Magic
Type: Offensive - AOE
Element: Fire
Range: 20 Meters
Cooldown: 4 Posts
Duration: Instant
Effect: The user stomps the ground creating a magical seal beneath them. Liquid fire penetrates the earth from under the users foot and travels underground. The liquid fire moves beneath the earth heading toward the foe to come up from beneath them. The moment it makes contact with the air it transforms into an ocean of bright red flames covering a 16m diameter area. The flames deal A rank damage and move at 20m/s.

Name: Intense Flame: Converging River
Rank: B
Mana Cost: 100
Requirements: Napalm Magic
Type: Offensive - AOE
Element: Fire
Range: 15 Meters
Cooldown: 3 Posts
Duration: Instant
Effect: The user points in the direction of the enemy and creates two magical seals in front of them. Two streams of fire each 4m in diameter are released. Each stream is then sent in the direction of the enemy in an attempt to converge at a single point and fuse together. When the two flames merge they cover a 8m diameter area. Individually each flame deals C rank damage, when merged it becomes B rank. The spell moves at 20m/s



Last edited by Yumi on Fri Apr 03, 2020 5:45 am; edited 2 times in total