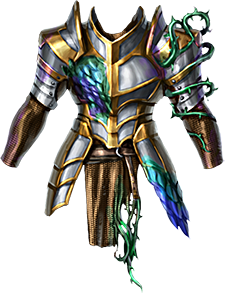 Name: Visnar's Mail

Slot: Armour

Type: Plate Armor

Class: Legendary

Weight: Heavy

Quantity: Limited

Element: Arcane

Durability: 3x S-Rank

Description: This ancient armour had been worn by several prominent warlords over the course of many centuries. While there is no record or even a clue as to who could have smithed this masterpiece, all experts agree that it was likely a collaboration between the best craftsmen from the old Dwarven and the Nekomata civilisations. Despite its age, the armour is very vibrant with its beautiful vine and feather ornamentation.

Requirements: None

Bonus:

Drawback:

Abilities:



Retaliate: Whenever the armour takes physical damage, half of it is dealt to the one who damaged the armour. This damage does not bypass the target's armour or full-body shields.