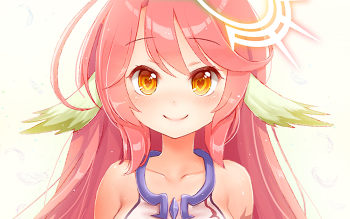 "Just how confident are you?"
Tsubaki had been having fun during her first few days in the town of Baska, but she had decided it was time to start making some friends. She had never had a friend before, so she wasn't too sure on how to act or what to do at all really. She sat down on a bench and read a book, secretly looking for anyone interesting to talk to. "this might actually be a good day today," she thought in her mind as she looked around. She would only look up every once in a while, seeing as that's what a normal person would do, reading while still watching their surroundings at the same time, making sure no one is coming to steal, kidnap, or murder them. I mean it all makes sense, in a way. Things do happen sometimes, and those times were always the times that Tsubaki is ready for them, sometimes she just gets that feeling that something is wrong.
She read for a little bit longer before looking up and seeing someone who didn't quite fit the crowds, and that was just the kind of person she was looking for. "Uhm... hey there!" she yelled to the person. All she had to do was hope she was doing this right and try her best not to scare the person off.
Words:223/200
Tags:@