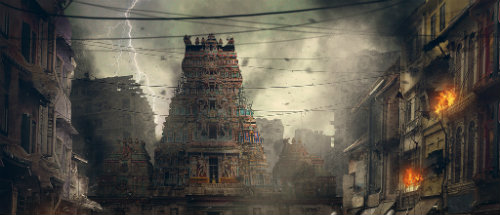 It didn't take long to get here.

The smell of rot and decay was faint. The strongest aroma in the room was that of lavender, fruits and various burning incense. It was something to take note of, but something about it seemed to be just right.

She had found this temple on the far side of the town. It seemed as if creatures of the night feasted on the citizens of this city when nightfell, and a great handful of people found refuge in this temple. She looked before her, the pathway past benches and pews. Stone lanterns stood at the end of the walkway, with a single altar in the center of it.

Namé Les approached it, the sounds of sleeping people covering her steps, coughing elderly as they watched her observe this new place.

"We do not touch his altar." an old woman said. Namé faced her, only to stop before the altar, looking at it for markings, anything for a sign.

"Ah, my children, you shall finally meet at once.

"Children? Meet? Who?" the asked, aloud, as if someone was talking to her, but she knew who was really speaking.

"She hears the god's voice!" a man spoke, his voice faint and raspy, "She is a child of the great god!"