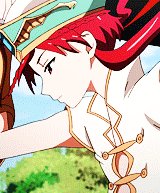 Rivers That†Run Deep
Forests That Shade Beauty
That Is Where I Will Spend My Days
@Rishi
Word Count : 339
Sinese†#336666†| Fiore†#ff3333

†
TiÍn smiled at her and nodded. He softly chuckled a bit, before sitting down on the floor again. He still didn't care if his clothes got dirty or not. "It's a deal then. In repayment for you helping me with social interactions, I'll teach you Sinese." Patting the floor next to him, TiÍn folded his hands into his lap, as he waited for the girl to sit down next to him.

He didn't know what she was going to think of Ningjia, but he hoped that Rishi wouldn't be too horrid to her. Humming at the girls words, he had to agree to a certain extent that she was right, a person who stalked someone from their home country wouldn't be much of a friend, but TiÍn always thought of Ningjia being a special case with how she was his companion now, and an animal at that.

"Ningjia... I want you to meet someone!"

He waited till the fluff of white tried to tug herself out of the bush she had been hiding in. He knew Ningjia had been following their every movement, she always did, but sometimes she didn't want to be seen, and TiÍn had to accept that. He didn't want to upset his girl.
Shaking his head, the boy soon crawled over to his companion, helping the fluff ball, unhitch her cotton like fur from the small twig branches of the bush she was in. The small cottonee made whiny noises, as TiÍn gently told her to shs as he help her escape, before Ningjia went and sat on his head in exhaustion.

"You are always getting stuck Jia... Maybe you should stay out of bushes from now on." Turning back to Rishi, TiÍn smiled as he went and sat back down next to her. "Rishi. This is Ningjia, my friend who followed me from Sin." Taking Ningjia gently from his head and setting the creature into his lap, before looking at the fluff ball. "Jia, this is Rishi. My new friend. Be nice okay."



MADE BY VEL OF GS + ADOX 2.0