。・:*:・゚☆。Arisa Ana。☆・゚:*:・。
| | |
| --- | --- |
| 21 | Seraphim |
| 6'4 | Mercy - Overwatch |
| Female | Muzisexual |
SERAPHIM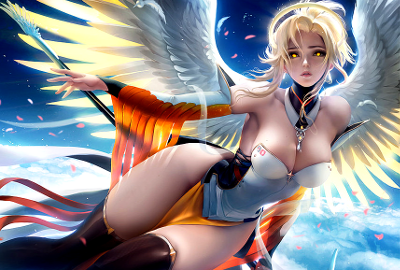 Seraphim appear from a dimensional plane to watch over all life. Some are here to protect, some are here to destroy life to open way for new life. Innocence is their nature to a certain degree. Seraphim are guardian beings, loyal to their home and their power in the material plane are slightly limited but still quite powerful. Their origins are beyond basic knowledge making them a mystery of life.

Seraphim stand taller than the average man. Their hair can range in shades even though they tend to have lighter colors between white and light brown. Seraphim have blue and gold eyes of many shades from light to dark. Other than that, seraphim have large white feathery wings which they can materialize that span equal to their height and can be white. Most seraphim have two wings, but more rare ones can even have four or six wings.

They try not to interact with mankind as they are such fragile and innocent souls but few in the past have chosen to wander Earthland learning how the beings live. However, there are times when the world below requires the presence of a seraphim to deal with a problem.

Sometimes a mortal receives Grace and ascends into becoming a seraphim, however they lose that Grace partly or entirely. When a seraphim acts in a manner that causes innocent souls to get hurt by those actions, their Grace will falter and fade away. When this happens, their wings become entirely black, along with their magic. They no longer seem to be able to pick up new spells as fast anymore either.

Most seraphim have never seen Illumin, who is considered the Father of their realm. Still, they are incredibly loyal and carry out orders given to them through the hierarchy of their realm without questioning it. It is this intrinsic task to not harm innocent souls that cause most seraphim to lose their Grace when they wander Earthland because they become too human and start to develop emotions.



PERKS



CALL THE LIGHT:
Seraphim greatly adept with Light-type magic. Their natural alignment to this element comes with great benefits. Seraphim can cast Light-type moves faster than others, which results into a single post cooldown reduction on all Light-type spells from the user.
SUSTAIN THE LIGHT:
Besides being able to cast Light-type spells faster, they are also capable of using their mana more efficiently when utilizing Light-type spells. Seraphim receive a 20% mana cost reduction on all Light-type spells from the user.
SMITE THE LIGHT:
Not only do seraphim utilize Light-type magic greater than anyone else naturally by casting it faster and paying less mana, but it also because their Light-type spells are naturally stronger. Seraphim receive a single rank increase on all Light-type spells from the user whether it is Offensive or Defensive.
GRACE FROM ABOVE:
Seraphim are blessed with something called Grace, which is highly affected by their behavior. Seraphim receive a 20% discount on purchasing spells and 20% discount on training spells. Other than that, they're entirely immune to Light-type magic due to their Grace.
SOAR THE SKIES:
Seraphim are capable of materializing white feathered wings on their back. It costs 100 mana per turn and allows the user to soar up to 15 meters. Its cooldown is 3 posts after deactivation. When losing their Grace, these white feathered wings become entirely black.
FROM THE SKIES:
Their natural alignment with Light comes with its drawbacks as well. The same way Light functions against Nature in battle, it affects them as well. As a result, seraphim suffer extra damage from Nature-type moves, which is increased by two ranks in damage.
DESCENT FROM ABOVE:
When a seraphim acts in a way that causes innocent people to get hurt they lose their Grace perk. The color of their Light-type magic changes color and becomes pitch black. Other than that, the wings they'll materialize will become black as well indicating that they have fallen and lost their Grace.


Last edited by Arisa on Fri Feb 02, 2018 2:39 pm; edited 14 times in total